This is a trip report from climbing the Mountaineers Route on Mount Whitney in May of 2002. All images were taken with an Olympus C2000z 2.1 megapixel digital camera. A climb in early May on Mount Whitney is considered a late winter or early spring activity because there is still plenty of snow. I hired a guide for this climb as it is a technical route and I couldn't convince anyone else to go. This is an awesome route in May because there is no one else around. A true backcountry experience in the splendor of the Sierra Mountains.
Click on any of the images to enter gallery mode. No descriptions, just bigger images 🙂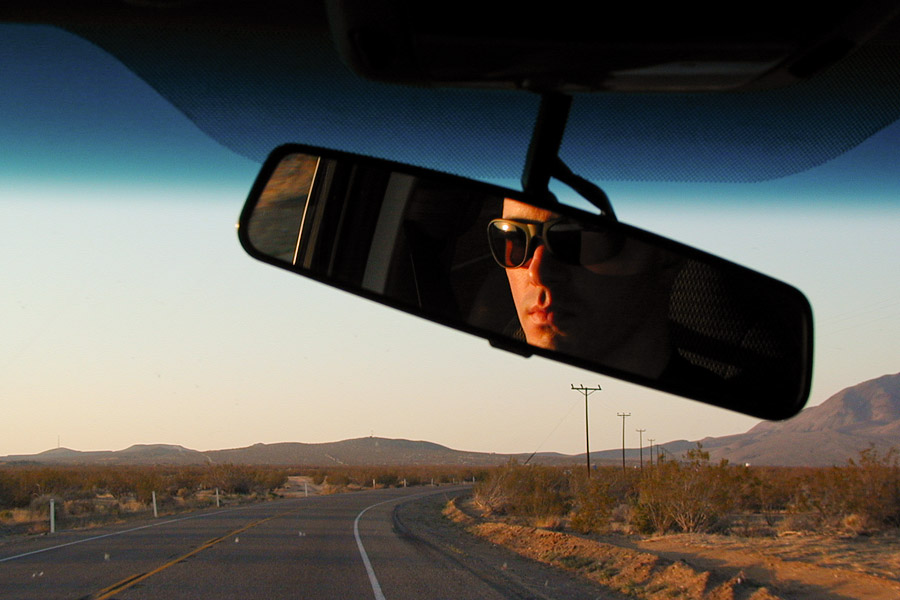 I really enjoyed the drive to the Whitney Portal from Anaheim, and then down to Los Angeles. This is a truly hidden part of the country for most of us. I lived in CA for three years and never saw these areas.
Monday May 6th, 10:30 AM.  After sorting gear and food to eliminate any unneeded weight, Scott Brown (a guide from Sierra Wilderness Seminars) and I set off on the Mountaineers Route.
After climbing from the portal for a while, we reached the ledges. Most of the ledges are walkable, but there are two particular areas where climbing is necessary.
Going up was challenging with a pack. Coming down was the most fear inducing part of the entire route.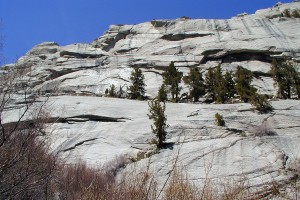 Here is the ledges area from the ground, although it is hard to show the route from this angle.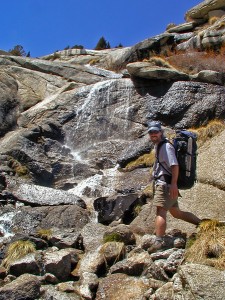 There are a number of crossings of the North Fork Creek, here is one of them. When I start to whine, Scott says "it's just a walk uphill." What a great attitude for climbing. Unfortunately, I complained a lot! I had trained very hard for this climb, but driving from sea level to the trail head, then sleeping one night in a SUV isn't the best way that I have found to acclimatize for high altitude. Now, I try to spend three to four days at altitude, hiking around and adjusting to the altitude. That schedule has worked well for me, and all of my climbs since have been without any trouble from the altitude.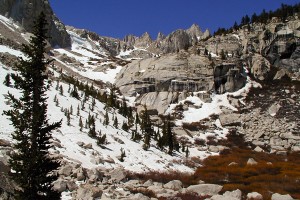 This is one of my favorite views, it is from Lower Boyscout Lake looking up towards Upper Boyscout Lake and Mount Whitney. This was my favorite stretch on the ascent because it was relatively flat. Incidentally there were no boyscouts, or lakes for that matter. There was a small body of shallow water that had lots of dirt and insects, a perfect spot to fill up my water bottle. Just toss in an iodine pill, shake, and never think about the little floaties as you drink them.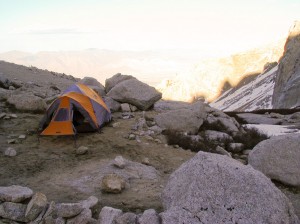 Here is base camp at Upper Boyscout Lake. Behind the tent is the valley and the city of Lone Pine. Water is close by and the site is good for camping. As far as photography goes, digital does not have the same depth and sensitivity with intense sunlight as film. However, digital is small, light, and yields instant results. *edit 2011: more accurately, I had no idea how to use a digital camera other than to bracket, which I did successfully on occasion 🙂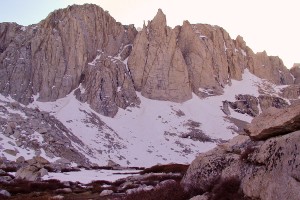 I think this was evening on day one.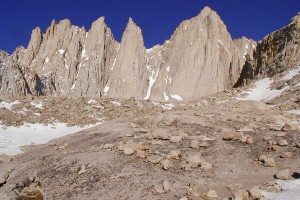 After waking up at about 4:30, we hit the trail (snow) at 6:00 A.M. This is the area in between Upper Boyscout Lake and Iceberg Lake, which by the way was frozen over, hence the name.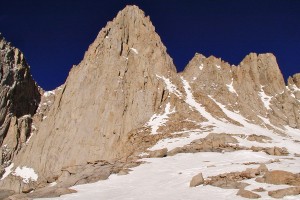 After climbing for two hours, we reach Iceberg Lake. I say climbing and not hiking, for this entire route from the trail head is up, up, up. This is odd because my topo map was flat as a pancake. This is a good view of the chute, the main snow gully running up the right side. Iceberg Lake is to the right (out of view), only a few more hours of intense climbing and breathing to go!
Climbing the chute was challenging for two reasons: The wind would pick up and blow very hard making it very cold. We stopped frequently to add or subtract layers. We had planned for winter conditions so it was still comfortable, just colder. The other issue was the snow condition. It was too soft for Scott's crampons because he was kicking in the steps, but my crampons (same model) did not ball up. I thought the snow was OK, especially because the year before on Torreys Peak the snow was 20 times softer, so I thought this was great. However, I wasn't kicking in the steps!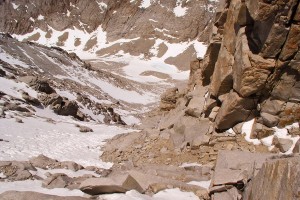 This is the top of the chute, Iceberg Lake is the bluish spot in the top middle.  The snow to the right of it is a postholer's dream depending on the time of day. When we were descending, we had to pass through the Iceberg lake again, but this time, you would take a few steps, then your foot would break the surface of the snow and lodge beneath the snow.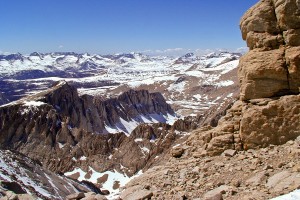 This is the view to the west at the top of "the chute" called "the notch", where east meets west.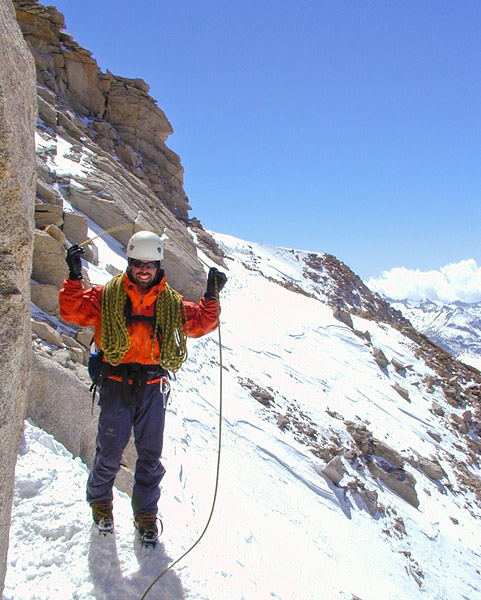 Just over the notch, you can traverse over to the main trail, or take a left for a direct route to the summit. This being the Mountaineers Route, of course we took a left and proceeded roped for a few pitches over mixed snow and rock. The conditions were excellent and although it's steep, I did not sense an abundance of danger here. Unfortunately, people have slipped and fallen at this point on the route, sometimes with fatal results.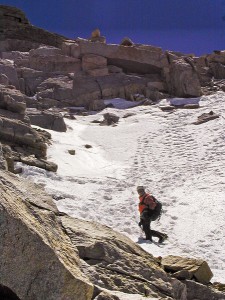 Here are the last couple of pitches, Scott (the guide) climbs first and anchors to belay me up the route. Working hard, I now have a decent rhythm going. I can see the summit and I know we are going to make it!
After hours of hiking and/or climbing, when you wonder if you are fast enough, strong enough, or if the weather will hold, when you see the summit in range it elicits a feeling of such incomparable elation. All of the planning, dreaming, training and travel is about to pay off, and all you have to do is get back down because at the summit, you are halfway 🙂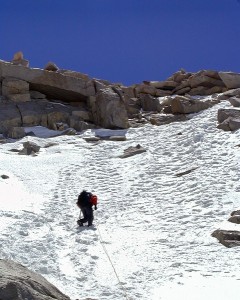 Plant axe and breathe in, exhale through pursed lips and take two steps, repeat and switch direction when needed.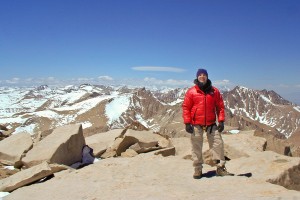 After two days of climbing a six thousand foot vertical route, we reached the 14,496 foot summit at 1:30 PM. I was elated to say the least. It was the hardest physical undertaking I had ever done, and I had made it to the top. Mount Whitney is the tallest peak in the lower 48 states. We spent about an hour on the summit in all the layers we brought. After a few pictures, resting, eating and making phone calls, we still had hours to go descending, so as always, Scott said, "we better get moving"… Oh, that huge tear in my pant leg, for some reason (altitude?) I was not wearing my gaiters and my nylon pants would catch on the crampons once in a while. Fortunately, the spikes never made contact with my legs and I still had my favorite pair of REI shorts with no zip-off legs.
This is Mount Whitney's large summit plateau. The view of the Sierras was breathtaking. Going down took a long time, belayed lowering to the notch, some plunge stepping down the chute, postholing past Iceberg Lake (the least fun of the route), a little glissading (sliding down on snow), we finally made it to camp at Upper Boyscout Lake around 5:00 P.M. making it an 11 hour round trip. I was immobile for a couple hours but finally perked up after a lot of hot liquids and food. We left the next morning, the hike down to the trailhead was smooth and took about 4 hours. Even though I trained very hard for this trip, running, weights, hiking with a pack, I still underestimated the difficulty of this route.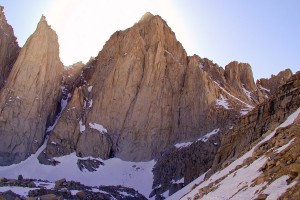 Apparently, the most direct route up a mountain is also the hardest. A few days hiking at altitude before actually climbing would have made the trip a lot easier. My lungs never really complained but my legs were mad as hell. You can't over train for a route like this, I'm glad I did it, but it was not easy.